Aspire LED Illuminated Plaque
Turn heads
Distinctive Design
Classic Style
The ultimate in finishing touches for your home; the Aspire LED lit sign gives you a bright, beautiful spread of light showing off gloss black acrylic numbers. Combined with your choice of font, you will have created an exclusive design that you will love.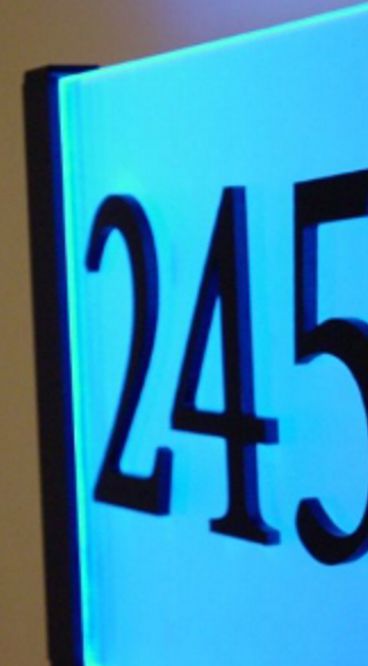 Ready to create your Aspire house sign?
Just click.
Dimensions
L:240mm x H:150mm
Available in one classic shape with distinctive gloss black sides
Outstanding numbers
The simple elegant design of the Aspire will give your home a real wow factor. The gloss black numbers are set on a deep plate of specialist light-distributing acrylic and finished with a brushed aluminium back. This unique LED illuminated sign can be customised with choices of LED colour and fonts.
Make a statement. Choose Aspire and visit our Go Design page to get started.
LED illuminated house signs
Fabulous signs that look beautiful in the daytime and WOW at night time.
Our LED lit signs are sleek, slimline modern house signs; all unique and all developed and manufactured in house by our expert team. Our creative team have worked hand in hand with our electronic engineers to design and develop stylish, contemporary led lit house signs that are ultra thin with hidden fixings and hidden technology. Our signs are simply like no others. For full information about our LED signs visit our
LED sign page
How we make your Aspire LED house sign
Your number(s) are precision laser cut in your chosen font from quality branded black acrylic and the edges checked for a smooth finish. An 8mm plate of specialist light-distribution acrylic is laser cut to size and a 3mm aluminium back plate is CNC machined to size with wall fixing points cut out.
Gloss black sides are laser cut and assembled with LED lights embedded within. Each side is bonded to the ends of the 8mm acrylic plate and your chosen number(s) are bonded in perfect position on the face. The back plate, wall fixings and electric cables are installed and LED's tested before finally sealing for outdoor use. Your finished sign is inspected, cleaned and tested before being safely packaged for our ultimate goal of providing you with a quality product that we took pride in making.
Specifications
Material
Clear 8mm Specialist Plexiglas acrylic front plate, 3mm Aluminium back plate, 3mm Black acrylic sides and numbers.
Stand-off Fixings
4x 11mm x 16mm Stand-off fixings.
Hole Size
Drill hole diameter of 5mm, 5.5mm or 6mm is suitable for supplied fixings.
Dimensions
Width 240mm x Height 150mm.
LED Colours
Available in White, Blue or Green.
IP Rating
65.
Power
Aspire MKII Sign is 12 volts - 0.5 Amp
Package Contents
1x Assembled sign, 5m Cable attached, 1x 12v/240v LED driver, 4x screws, 4x wall plugs, 4x wall spacers, 1x drill template and instructions.