Lyndon House Number Sign
Small size big impression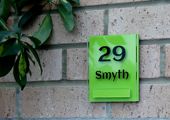 Perfect Size
for small spaces.
The Lyndon's size is ideal if you have limited space but still want to make a big impression with your house number sign. With its twin plate design and separate coloured fixing plate you have everything you need to create a sign with lots of style or have some fun, break the mould and stand out with a splash of colour like its big brother the Cayman.
We have made available extra coloured fixing plates which can be purchased separately so now you can change colour with the seasons or as often as you wish with a simple click out and click in of a new colour.
Ready to create your Lyndon house sign?
Just click.
Dimensions
L:110mm x H:130mm
Six shapes all with clean lines and smooth contours
Keep it Simple
Overcrowding your sign with text can make it difficult to read. When it comes to the Lyndon less is most definitely more.
A simple design tip is to allow plenty space and background colour to show around your design, which creates a more appealing and professional sign allowing the polished edges, colours and your number to stand out.
Need inspiration? Try One-Click, it's our quick and easy design set-up tool. It's as simple as clicking on an image or design you like and entering your house number. Visit the Go Design page to get started.
Every entrance deserves elegance
It doesn't matter if you live in a small apartment or a large country house, your home deserves to have a beautiful welcome.
Finding the right house sign can be tricky if you need something very large or you need a small neat sign. At Plastic Republic we have house signs that fit every type of property and never skimp on design or quality. Your flair and choice of colours will make the sign your own so go ahead and make a statement without compromise; chose a designer sign from Plastic Republic.
How we make your Lyndon house sign
Your chosen design is precision laser cut from quality branded acrylic and the edges further flame polished by hand for a beautifully smooth feel to each edge. Fixing holes and a slot are prepared at the bottom of the sign to accept your chosen coloured fixing plate which simply clicks into place when installed.
Your design is then accurately recreated and cut from the finest quality vinyl, ensuring durability and colour vibrancy. This is carefully bonded to the reverse of your sign's front plate which offers not only protection but a gloss and lustre that only comes from optically perfect crystal clear acrylic. Your finished sign is inspected, cleaned and safely packaged for our ultimate goal of providing you with a quality product that we took pride in making.
Specifications
Material
Clear 4mm Plexiglas acrylic front plate, 3mm Plexiglas acrylic back plate, 2mm Plexiglas acrylic fixing plate. UV stable.
Stand-off Fixings
85mm x 16mm coloured fixing plate, Clear acrylic stand-off support. 4mm wall spacers.
Hole Size
Drill hole diameter of 5mm, 5.5mm or 6mm is suitable for supplied fixings.
Dimensions
Width 110mm x Height 130mm.
Shapes
6 design shapes available.
Package Contents
1x designed front plate, 1x coloured back plate, 1x coloured fixing plate, 1x clear acrylic stand-off support, 2x screws, 2x wall plugs, 2x wall spacers, 1x drill template and instructions.