Cayman House Number Plaque
Create an Impression with iconic style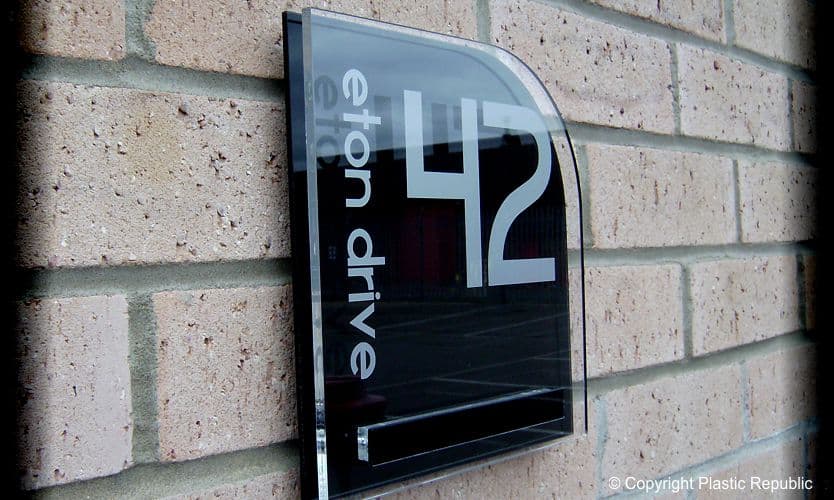 Extra Splash
of colour is all it takes.
The Cayman's iconic styling with its coloured fixing plate positioned at the bottom of the sign offers something special. Yes you can match the colours of your sign and have it all blend beautifully or you can rebel and use that bold bright colour you love. Use it to great effect and match accent colours; a hanging basket in bloom, your red front door or maybe your football team's colours.
We have made available extra coloured fixing plates which can be purchased separately so now you can change colour with the seasons or as often as you wish with a simple click out and click in of a new colour.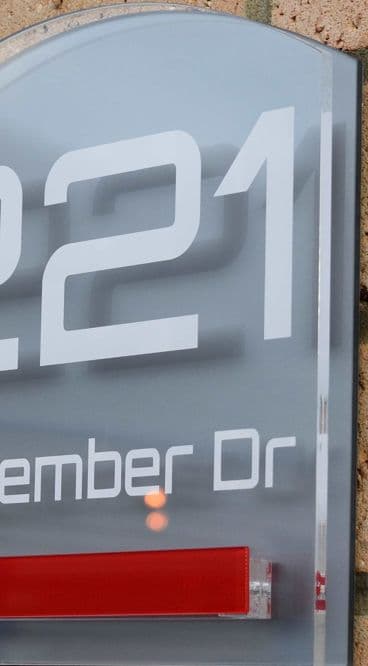 Ready to create your Cayman house sign?
Just click.
Dimensions
L:200mm x H:200mm
Eight shapes all with clean lines and smooth contours

Shapes and Fonts
Try different fonts and sign shapes to find a good aesthetic combination and you will achieve a well presented pleasing design that is entirely unique and created by you.
In the picture the straight edge at the top of the numbers and the draping curve on the left tie in nicely to the straight top and curves of the sign's sides.
Need inspiration? Try One-Click, it's our quick and easy design set-up tool. It's as simple as clicking on an image or design you like and entering your house number. Visit the Go Design page to get started.
Personalized House Number Signs
House number signs have become a great way to extend your flair and imagination from inside your home to the outside. At Plastic Republic we offer such a variety of colour and style that you are sure to find one that suits your home perfectly
Whatever type of property you have, your home or business deserves to have curb appeal. Choosing the right house sign can transform your property. Choose from cool, calm modern colours or go vibrant and make a statement. The house sign doesn't have to be large; smaller signs can have just as much impact. Take a look at our designer house signs and select yours.
How we make your Cayman house sign
Your chosen design is precision laser cut from quality branded acrylic and the edges further flame polished by hand for a beautifully smooth feel to each edge. Fixing holes and a slot are prepared at the bottom of the sign to accept your chosen coloured fixing plate which simply clicks into place when installed.
Your design is then accurately recreated and cut from the finest quality vinyl, ensuring durability and colour vibrancy. This is carefully bonded to the reverse of your sign's front plate which offers not only protection but a gloss and lustre that only comes from optically perfect crystal clear acrylic. Your finished sign is inspected, cleaned and safely packaged for our ultimate goal of providing you with a quality product that we took pride in making.
Specifications
Material
Clear 5mm Plexiglas acrylic front plate, 3mm Plexiglas acrylic back plate, 2mm Plexiglas acrylic fixing plate. UV stable.
Stand-off Fixings
155mm x 19mm coloured fixing plate, Clear acrylic stand-off support. 4mm wall spacers.
Hole Size
Drill hole diameter of 5mm, 5.5mm or 6mm is suitable for supplied fixings.
Dimensions
Width 200mm x Height 200mm.
Shapes
8 design shapes available.
Package Contents
1x designed front plate, 1x coloured back plate, 1x coloured fixing plate, 1x clear acrylic stand-off support, 2x screws, 2x wall plugs, 2x wall spacers, 1x drill template and instructions.